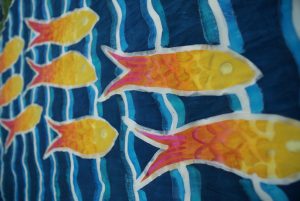 Introduction
Kinetika are a group of creative's formerly based in London, who moved to High House artist's studios in Thurrock, Essex in 2014, they specialize in participatory practice, education and design.  The founder of the company Ali Pretty applied for Arts Council funding to travel to India to create a set of six metre tall hand-painted silk scrolls with community groups and artists, along the river Hooghly. The project was partnered with places along the river Thames from East London into Essex and she had a vision to invite two artists to work on each of the ten stops along each river.
'This ambitious project explores the unique relationship between London and Kolkata through a year's artistic exchange between communities along the Thames Estuary and Hooghly River… Through Artist led workshops (Sept 2016-April 2017) in the 20 communities, we will create content through drawing and oral storytelling activities inspired by common themes that capture British and Indian intangible culture.'
http://www.kinetikaonline.co.uk/site/silk-river-india-2016171
Having been investigating how art can bring together communities through relational practice I was drawn to this project as a chance to observe a group of people, who for the most part who hadn't met before, working together on an art project and to observe the results of their interactions. It was Ali's intention to facilitate the formation of a group of Essex artists whom she could call on to work on projects in the future.
At the first meeting with the group I was accepted onto the project, and partnered with Steve Lawes a young artist from Southend, we were allotted Tilbury as our working location. I was thrilled about this, having seen Jules Pretty's lecture at the University of Essex a number of years ago and hearing him talk of the Victorian landfills that are spewing out artefacts into the Thames, it was a place I had been meaning to visit for years…
'On the beach there are now dozens of blue, brown and clear bottles washed out by recent high tides, originally for medicines, extracts, salves and sauces. I also find porcelain pieces, fire grates, plates, licker from coke fires, smoothed glass, smashed vases and, strangest of all, human remains. It's a boneyard. I look carefully and find pieces of femur, hip joint, ulna, radius and fibular. But no skulls. After the 1832 Cemeteries Act… human remains were bought from the full graveyards of London and dumped on rubbish tips like this one. Laid finally to rest in the middle of marshes, far from civilisation, these bones were not meant to come to light.'
Jules Pretty2
Children's Workshop with Tilbury School
A few weeks later I was headed to Tilbury in my car. On my arrival, they had split into teams from the schools around Essex, the group of around 150 children, and were doing tours of either the Port, or a walk to the Tilbury Fort and back with historian Mike Ostler.
I sat in on a talk about the workers of the port in the past, before heading off for a walk to the Tilbury Fort with a group of about ten children aged seven to eight in tow. Along the route our historian Mike bought to life the places we visited with stories and legends related to the route; from the historical story of Elizabeth I arriving here by boat to render her famous speech 'I know I have the body but of a weak and feeble woman; but I have the heart and stomach of a king, and of a king of England too.' To stories from his childhood about collecting birds' eggs from the bushes around the fort, blowing them and putting in display cases as was the fashion at the time.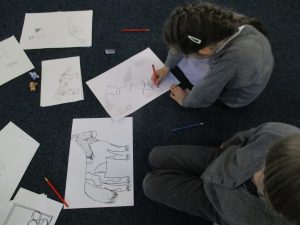 He explained before English Heritage owned it, people travelled down to camp by and swim in the moats (considerably cleaner than the river at this point!) but they had fenced it off when making it into a tourist destination.
That afternoon we headed back to the ferry port and dishing out pens and paper the school children set about drawing the sites and stories we had seen and heard along our walk. I sat with a group and we drew the black and white horses, the barrels in the Fort and the canons.
Once they had completed the drawings we laid them out along a banner to show how they could look on the finished scroll. They were all very pleased with their work and had clearly enjoyed their day.
Fort to Fort Walk
Returning to Tilbury I was interested in doing the 'fort to fort'3 walk, to see more of the estuary coast line, and to investigate the location for myself so I could bring some personal experience to the artwork we were going to create.  We arrived at the 'Worlds End' pub, famous watering hole rumoured to have been frequented, via the foot ferry, by Samuel Pepys, we parked up and set of to the first fort Tilbury.
There was an historical enactment going on in the fort, and men dressed in the striking 44th East Essex Regiment uniforms of red jackets with white/gold ribbons, with white breeches, were firing muskets into the air for the entertainment of visitors young and old, to the beat of their drummer, or attempting to! Women boiled pots of coffee and stew in the mess area, on open fire stoves and tents containing the regimental supplies were open to view.
The fort itself has some impressive architecture; underground tunnels lead to the manufacture and storage area for explosives, large vaulted rooms with ancient floor boards are where the series 'Sharp' was filmed in the 1980's and relics from the film set, painted barrels, remain as an attraction.
It was an intensely hot and still June day, we set off to walk to the other fort, not entirely sure of the distance but with plenty of water in our back-packs. Passing the decommissioned power station as our fist land mark, the building is being demolished and will leave a massive gap on the horizon being such a striking if industrial landmark.
The coast line is a complex mix of stunning wild flowers in abundance, juxtaposed with tonnes of washed up plastic, and metal skeletons of boat-jetties, one had a man and his son on it fishing for eels in the river. Large wooden logs run along the path, and we only see a few people on this extremely hot day.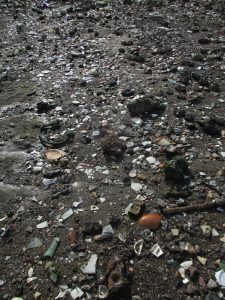 I had been hoping to find the old landfill sites Jules Pretty had spoken of, but thought we had little hope, without local knowledge. However we were walking the path, and came across a couple acting suspiciously in one of the small curved 'beaches'* we passed them, and then I stopped, and walked back a way. I shouted out to them: 'what are you doing?' their reply, as I hoped, they were digging in the low cliff-sides for old bottles. We clambered down, and sure enough the beach was strewn with bottles and junk dating between the Victorian era and 1930's. They showed us their haul and told us about what we could find, and we collected two bags full of spoils (as much as we could carry on our walk) and thanking them headed off.
The next long stretch of 'beach'* was made up completely of broken shards of pottery and glass washed soft at the edges by the tide.
After a vey long walk we explored the radar tower en-route and arrived at the Coalhouse Fort, with its pristine gardens and military architecture, it is only open one day a month, and today was not the day, another visit!
*I use the term 'beach' loosely here, these are tidal river beaches, made up of mud, sand and detritus washed out of the low cliffs and up from the sea. Old batteries are strewn amongst the matter and are decomposing into the water, and the rubbish of industry is mixed in with all of it. I suspect it would not be wise to sit or bathe on these beaches!
The Residency & Process
Camp Tilbury
I arrived in Tilbury the night before to erect my tent and set up camp, for the 10.00am start the next day. The campsite was on a farm near Stanford-le- Hope, and has a view over the fields; I had seen a barn owl on my first visit, so I faced the tent twards the field in the hope of seeing another. I pull out some of the artefacts and start to sketch them in preparation for tomorrows drawing session.
Aside: I had noticed on arrival there were a lot of black and white horses at Tilbury docks area, one of the school teachers told me that the place had a long history and association with travelling people and many people owned horses in the area including himself. He told me a story about how, a local man had sold a small horse to someone over the river in Gravesend, and so he had taken the horse on the foot ferry to deliver it. He had a photo to prove it. I was amused when I ventured out to check out the local pub to see the following sign…
Meet & Greet/Concepts
When I arrive on the first day, there are fifteen of us in the group; artists, community groups from Southend, Tower Hamlets & East Tilbury, with me and Steve for Tilbury. We look at examples of scrolls and talk about inspiration and then start by talking though the process;
Formulate a narrative (for your location.)
Split the scroll into three sections; beginning, middle and end.
Think about the size of the elements.
Draw at large scale.
The first layer of the scroll will be images; the second layer will be stylised patterns. The river Thames runs through all the scrolls, and is painted the same on all of them.
The narrative order for our Tilbury scroll is;
Cruise Terminal.
Ferry Port (Transport of people.)
Fort & Foreshore.
Drawing
Steve and I start with a large sheet of paper and mock up our design, at small scale, we think about what needs to be included, look through the pile of the children's drawings from our workshop and draw from that, drawing over and top of each other until we have filled the area.
Enlarging
The next step was to start drawing and enlarging the images to a size suitable for the scroll.
Cut & Paste
We cut and pasted the large images onto a sheet of mark-up paper the size of the intended scroll,  stepping up ladders to check the arrangement and adding elements where needed.
Tracing
We then traced the whole scroll onto a fresh sheet of mark-up paper. From this point on the whole group get involved with whichever scroll is on the table at the time. This means work is expedited much quicker than it would be in our small groups, and the process is truly collaborative, everyone having a hand in each scroll.
First Wax
The silk is stretched over the drawing (Indian silk is used as it is of a better quality than Chinese silk.) Then the small wax melting pots are arranged around the table, and each image is traced with hot wax using paint brushes. The technique requires some practice, at first letting the wax dry and trying to go over it doesn't work, then quickly realising that a confidence of line is required so the application goes on quickly and smoothly absorbing into the fabric, and giving the traditional 'feel' of batik.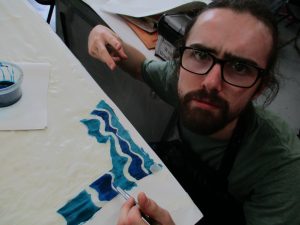 Planning the Colours
We saw the leaders in the group before us getting in a bit of a muddle when everyone pounced on the scroll to start colouring, everyone shouting: 'What colours this? What should I do here?' So we decided to pre-plan our colours on the drawing and then write them out, cut them out on pieces of paper and lay them out on the silk. Luckily everyone went on a guided tour of the Royal Opera House College, a production and learning centre next door, where they make stage sets and design costumes, during their lunch break giving us a chance to set this up before they wanted to get on it!
Dye Mixing Master Class
Ali gives the whole group a lesson in dye mixing;
Half fill a large bucket with warm water.
Fill a small tub half full with 'urea' and stir it into the large bucket.
Put a few table spoons of dye powder into some small posts.
Add a small amount of the urea water to the dye, mix into a paste, and water down with urea water mix to half fill the pot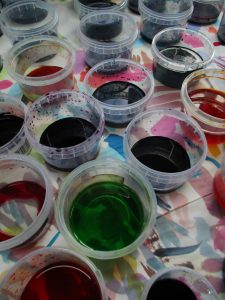 These are the master colours that stay on the work bench with a label on for each colour. They must be used up within three days as they loose their effectiveness after this time.
From these master colours we take some of the colour into a small pot, and either mix it with another colour or dilute it with urea water. It is these mixed colours we take to the table, and place on a piece of folded paper to protect the scroll as we work.
A word of caution as I learned when I started to mix a colour and it kept going greener no matter what I colours I added into it; check your brush is clean before commencing! A large pot of communal brushes is shared and everyone leaves the brush in the colour it was used in, we all compliment each other on mixing interesting or hard to achieve colours.
First Dye
We start with the river Thames; alternate colours of Jade and Turquoise as it is on all of the banners, with a second waxing then indigo over the top. Two layers of newsprint beneath the silk soak up the excess dye as it goes through the fabric.
Second Wax
The wax pots are laid out around the table for a second wax, this time we add the details and the stylized patterns. We will be adding darker colours so any areas waxed now will be the lighter areas of the scroll.
I add detail to the Essex board on the Worlds End pub, a grass repeat in the horses' field, and a set of rigging through the upper background that I am particularly pleased with, created using a wide flat waxing brush, not bad for a beginner!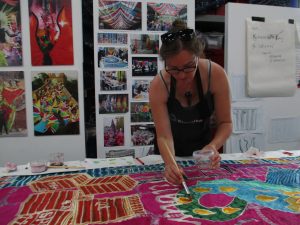 Second Dye
This time some new darker colours come out to choose from; olive, terracotta, blackcurrant and indigo, we fill in the large background areas, and hand colour in any darker shading that is needed.
Step 9 – Dry Clean & Steam
The completed scroll now goes off to a specialist dry cleaner to be dry cleaned and steamed; this removes the wax residue, helps to fix the dye into the fabric and brings out the brightness of the colours. It is then rinsed in hot and cold water and left to dry flat.
Conclusions
As fortune would have it, I had been booked to spend a week in a remote artists cottage in Cornwall the week of the Tilbury residency, but decided to turn it down too spend a week in a tent in Thurrock! However any concerns I had were unfounded, I had a feeling the project would be really valuable in terms of my research into how art affects communities and I wasn't disappointed.
The Silk River not only linked artists and communities in the Essex area, it linked them with artists and communities in India. It is offers equal opportunities to young, old and those with disabilities, it creates a cultural melting-pot of backgrounds and interests, the like of which I think you would be hard pressed to match on any other project. I worked alongside volunteers for example from the Hindu Association in Southend, students from all over the world, teachers, local artists and school children from the locations visited to name a few.
Is this project unique to Essex? Yes, in a way I think the areas history provides the back-drop for the  multi-cultural and inclusive ethos we see today; the Dock, the Fort and the river location all working together to draw people from other continents into the UK and onwards into London its capital city. Meaning Tilbury has always had a unique mix of people, and we were drawing on this cultural heritage, further more I believe the Essex people to be quite uniquely open and friendly precisely because of their history, although I may be biased in this respect!
It was my pleasure to work with the school children of Tilbury who were interested and engaged in the project, and also to meet the artist and volunteers that made the project possible, for those of us who went through this process together it was a rich learning experience, and nurturing talent and providing skills was very much the focus of the project.
Influences on the project came from far and wide; the art of India, story telling, and walking artists all figure. Kinetika's founder Ali Pretty was trained in carnival arts in India and Trinidad, and the company actively promotes inclusive events and community engagement.
We all formed a community in that week, some people were only passing through for a day, but by the end of their day they felt real a sense of achievement and were happy to have taken part. I learned a lot about the collaborative way of working, all decisions were discussed between the group on each scroll, I found this tricky at first as I am used to working alone, but I soon realised it was a fair way to make a decision when no one person has ownership of the project.
The organised chaos of the workshops somehow led to everyone pitching in and working solidly for the week I was there (and other weeks, with different teams) and I was aware how much they drew out of each participant as an individual, working to their skills and supporting them in the areas they weren't so adept, the group balancing each other out and in a way forming a gestalt.
I didn't bring any expectations to the process as I had never done it before, so I arrived eager and willing to learn and observe – I gave up a week of my time to be here, unpaid, and I think I gave my all in that week. I worked hard and joining in with all tasks, bringing along three volunteers for a day each, and to have maximum input into the project was my aim.
I fell into my camp bed every night tired but happy, and was up with enthusiasm the next morning.  I mixed with everyone on the project and got to know many of them well, and what I gained was the overwhelming sense of camaraderie from working on the project; to the point where Ali asked me if (my team mate) Steve and I had met before, as we worked so well together and got on so well!
A big lesson for me was to loosen up a bit and that things still get done, to let go of outcome (no matter how many times I learn this I still need reminding!)  It was interesting that, even in what seemed like chaos amazing art was produced by the end of it, and that despite sleeping in a tent and working really hard for that week I still felt refreshed and happy afterwards, and as if I had got away from it all!
It seems that relational art can undoubtedly work as a force to form strong community bonds, whilst it levels the playing field for all to participate; it was educationally enriching for the school children, taught us the adults new skills, formed a lasting community for the artists involved, and gave a source of pride to the communities of the areas it touched.
The legacy of the project continues, the scrolls will be taken on walks in Essex and India in September and December 2017, and I hope to be involved in both. There will hopefully be future Kinetika projects that call on the artists involved, and they are maintaining a communication  network amongst the artists of the group, on a more personal level my co-artist Steve wants to come up to North Essex to do an internship with me in the future.
What did they learn from me? Well perhaps that North Essex is a fairly long way from Tilbury, and that someone from North Essex might just be mad enough to sleep in a tent for a week to be part of a community and all that entails!
Further Information
Silk River Bibliography
Ackroyd, Peter.  Thames: Sacred River.
Coverley, Merlin. The art of wandering, the writer as walker.
Frankopan, Peter.  The Silk Roads: A New History Of The World.
Gangopadhyay, Sunil. First Light.
Gangopadhyay, Sunil. Those Days.
Kinetika People. Thurrock 100 Stories.
Lahiri, Jhumpa. The Lowland.
Lichtenstein, Rachel. Estuary: Out from London To The Sea.
Rahman, Zia Haider. In The Light of What We Know.
Sinclair, Ian.  Downriver.
Solnit, Rebecca. Wanderlust: A History Of Walking.
Taraphder, Nilanjana.  Along The Thames and The Ganges.
Empire of the Indus: The Story Of A River Refugee Tales.
The UK Walks 2017
September 15th – 24th: Thames Walk
Fri 15th – Kew Gardens
Sat 16th –  Tower Hamlets
Sun 17th – Greenwich
Mon 18th – Barking and Dagenham
Tues 19th – Purfleet
Wed 20th – Dartford
Thurs 21sh – Gravesend
Fri 22nd – Tilbury
Sat 23rd – East Tilbury
Sunday 24th – Southend
The India Walks 2017
December 6th -17th
Wed 6 – Azimganj, Barikothi & placemaking
Thur 7 – Azimganj to Hazarduari
Fri 8  – Murshidabad to Krishnanagar
Sat 9  – Krishnanagar and former Indigo Estate
Sun 10  – Boat to Chandannagar
Mon 11  – Chandannagar to Barrackpore
Tue 12  – Barrackpore
Wed 13  – Kumortuli, Jorasanko and Marble Palace, North Kolkata
Thur 14  – Tour of Burrabazaar and Howrah
Fri  15  – Visit to Kidderpore docks and tour of Batanagar
Sat 16  – Botanic Gardens, Kolkata
Sun 17  – Finale Procession from Princep Ghat to central Kolkata
Credits
Residents:
Sara Hayes
Rebekah Wallace
Rebecca White
Anne White
Kinetika:
Ali Pretty
Jane Ford
www.kinetikaonline.co.uk
www.silkriver.co.uk
Studio Location:
Artists' Studios,
High House Production Park,
119 Purfleet Bypass,
Purfleet
RM19 1AS
Camping:
Walton Hall Farm
Walton's Hall Rd,
Linford,
Stanford-le-Hope
SS17 0RH
References
1 http://www.kinetikaonline.co.uk/site/silk-river-india-201617
2 'This Luminous Coast' Jules Pretty (2011) Full Circle Editions
3 The glory of this walk is the contrast between the local industrial and architectural heritage, and the eternal stillness of the marshlands themselves. From the constant movement at the Mucking Landfill site, the magnificent towers of the Coryton Oil Refinery, the busy river traffic, the ancient and modern sea defences, the fort itself, the distant views of Cliffe Fort opposite, and the sad dilapidation of the Bata factory, the history of this part of coastal Essex is played out before your eyes.
ww.essexwalks.com/walks/tilbury.html