Artists Rooms – Pretty's Exhibition
As part of my MA in Arts Practice, I curated an exhibition of 14 artists (and 4 performance pieces at a private view) for Prettys Solicitors in Ipswich 2017.
The exhibition was well received by the firm, and I am pictured here on the launch night, alongside members of the Prettys team, the Dean of Suffolk University and the mayor of Ipswich.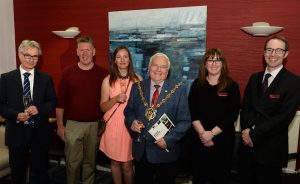 Each artist was allocated a room or space in the building in which their work was displayed – much thought was given to reflecting the spaces and the work, whilst working within the remit of a lisited building where limited alterations could be made.