Umbrella Installation – Festival Arsene Arras
The hanging umbrella installation 'Parasol' was created in conjunction with a team in France from Université d'Artois and the biannual festival team from Festival Arsène, who assisted with tension wires and a cherry picker for installation.

Donated old umbrellas were individually painted by a group of student volunteers from University of Suffolk, who undertook creating a series of umbrellas with the theme of 'maps', to reflect Ipswich's town twinning with Arras in Northern France.
As part of the key team I attended the festival to assist with hanging and invigilating it for one week.
Having created the umbrellas at University of Suffolk, in Ipswich we arrived on site and attended a networking event with a local residents group.

Once installation was fitted we organised and held a tea party for invited guests; school children and older people, plus drop-in guests who were at the festival, providing an English afternoon tea with biscuits entitled 'Ch'tea Time.'
It was a bitterly cold November, we kept warm drawing chalk umbrellas on the pavement, chatting to local residents, and dashing to the nearest cosy café for a chocolat chaud!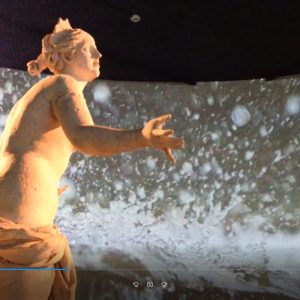 Out of hours we got to spend time with the other artists who were taking part, and I am still following the work of some of them including David Mesguich.
We were lucky enough to be invited to a magical event as part of the festival at the stunning Saint-Vaast Abbey, dancers and characters in costumes and masks danced around the long hallways, with black and white tiled floors that run along the sides of the quadrangle, to the tune of live classical music, it felt like something from another era and was truly enchanting!
Click on the last image for a snippet of video of a 360° projection of water in a circular room, which was particularly memorable.