Umbrella Installation – Festival Arsene Arras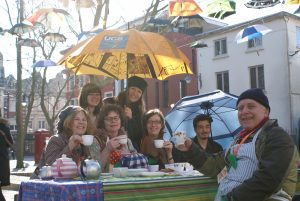 The hanging umbrella installation was created in conjunction with a team in France (fitting and hanging) and a group of volunteers from University of Suffolk.
We undertook creating a series of umbrellas with the theme of maps, to reflect Ipswich's town twinning with Arras in Norther France.
After creating the umbrellas in Ipswich we arrived on site and attended networking events with resident's groups, fitted the installation and invigilated it for one week, organised and put on a tea party for invited guests, school children and older people plus drop-in guests who were at the festival, providing an English afternoon tea with biscuits.