The Challenge?
Create a walk as art in a place I have never visited before; in a different country!
Background
Having attended Walk21 in Munich five years ago, I was keen to re-visit this seminal event for those involved in walking. I submitted a paper, and was accepted, but they asked if I would consider creating a 'Walkshop' rather than doing a static presentation. I decided to rise to the challenge…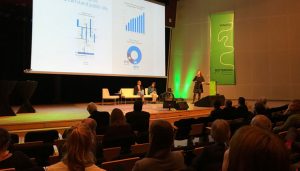 Creating the Walk
I wanted to create a participatory walk with a number of stopping points around the city, which I could use to create a walking art piece to illustrate how art can influence architecture and vice versa, along with how communities affect place.
I intended to use the Walk as Art to investigate the historical and contemporary use of the area. To inspire the group as we head off the beaten track to take in some of the creative urban locations.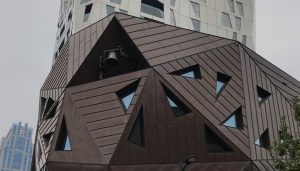 To invite those attending use their senses as we walk the route to interpret the spaces in a new way, to see, hear smell and absorb the environment and look at it in new ways, to re-evaluate they see the everyday.
I wanted the walk to unfold with suprises as we investigated the city through creation of art, walking techniques. and observation. To engage with people as we explored.
I created a series of questions to initiate discussion on:
The effect on the community of development, architecture and designed public spaces.
How people use the spaces in the city.
How we can influence urban planning though art and walking.
Ecologically sound use of spaces in the city, re-purposing of buildings, and how people interact with spaces though art and creativity.
How communities have engaged to create spaces to suit their needs, even reinventing how they walk through the spaces they use every day.
Starting my research I put a call out for volunteer artists to get involved. Sadly no one contacted me, even with a long list of websites from the team in Rotterdam who had similar aims, the nearest I got was 'is there any money involved?'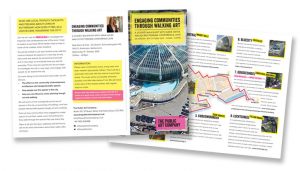 So I dived into the internet and trawled though tourist websites and Youtube videos about the city and started to compile a list…
Then it was a matter of mapping the places I had seen which inspired me on Google Earth, and working out a route which wouldn't be too long.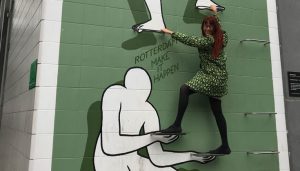 After a number of route versions, I finalised a route and settled on four miles. This was amend a few times when I e-mailed the places on the ground, and found out some of them no longer existed in those places, but a few days before the trip I had a leaflet printed, with the route, and the major stops I would be making on the walk.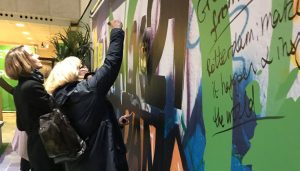 The aim of my walk was to educate the attendees on the role walking art can take in influencing city planning, public spaces, and how people interact with cities though creativity. I wanted to teach people about the ways you can use art and walking to interact with people, how it can be a valuable tool for gathering community feedback, bonding groups, looking at your places and spaces though alternative eyes.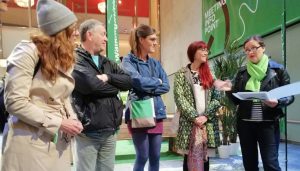 This was the only creative walking breakout session at the conference.
The walk over four miles around the city centre of Rotterdam*, took in:
Pauluskerk Church (Homeless charity)
Street Art (Commercial Street Art and its place?)
Willem de Kooning Art Academie
Markthal (Market Hall and Mural – Sensory places and spaces, performance walking.)
Kubuswoningen (Cube Houses – Iconic architecture.)
Bluecity (Recycled swimming pool, co-working space and discussion on cyclical business concepts.)
Goudsesingel (Industrial Buildings – early community spaces.)
Luchtsingel (Crowd Funded Yellow Bridge between two communities.)
*For more information contact me for my full walk notes.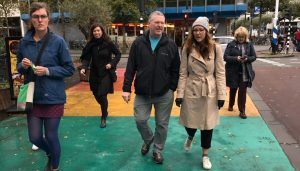 Fourteen people took part in the walk, from; Netherlands, Sweden, London, Scotland, Switzerland, Asia and Cuba.
We walked and talked, and at intervals stopped and took part in discussions inspired by questions I had laid out in my script to encourage dialogue about the topics listed.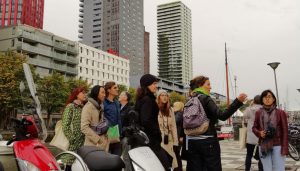 As part of the walk I encouraged the group to take part, so we did some active learning interactions including:
Graffiti spray session at the conference centre before we left to warm everyone up.
Drawing without looking, (luckily the weather held out,) we stopped to draw a space where buildings and trees juxtaposed, using continuous line techniques.
Performance walking – setting out in a line I led the group though the empty market square and asked them to follow my actions, then let other group members take the lead, we snaked across the broad open space and caught the eye of many passers-by.
Chalk drawing – outlines of each other, marking our presence at the Yellow Bridge.
Outside the Markethal, we talk a bit about Arno Coenens mural, was it inspired by the work of Leonardo da Vinci? Photo: Rowena Macaulay.
Outcomes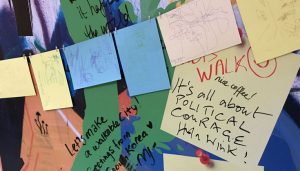 Outcomes included:
A pop-up exhibition of the drawing work of the group at the conference centre on our return.
Interaction of the people in the group around the four-mile route.
Positive feedback from the group in feedback book. (See quotes below.)
A group member wrote-up and submitted a presentation report about the walk as part of the conference.
Student attendees got involved, and gained insight into how to use walking for other means.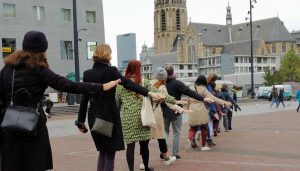 Conclusions
What was an amazing challenge due to distance and little help on the ground, finished with a really positive outcome for me and for the group who took part.
Lessons were learned, challenges were met, the weather looked to sabotage the walk at one stage, but on the day we were lucky, the sun even came out for part of the route.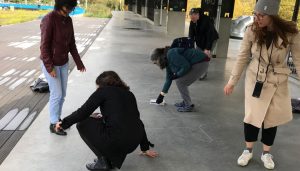 I was really pleased that the group engaged in the tasks and took away a variety of learned experiences that they can use in their own practices.
Would I do it again? Absolutely!
Look out for 'Walk as Art' coming to your city…
Feedback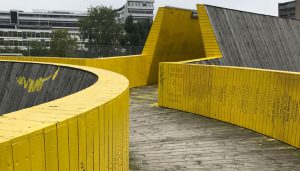 What was your favourite thing?
Yellow Bridge and the drawing at the Art College. Very good idea! Thank you a lot!

What was your least favourite?
I loved everything, sorry 🙂

What did you learn?
I learned to look at the city from another angle.

G.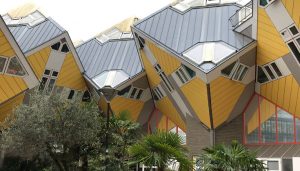 What was your favourite thing?
Yellow Bridge

What was your least favourite?
Skipping some interesting things out along the way.

What did you learn?
Variety of public art.

E.M. – USA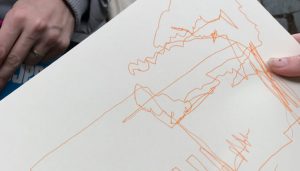 What was your favourite thing?
Yellow Bridge.

What was your least favourite?
Roof of the Markethal.

What did you learn?
Art is also about alternative ways of using/appropriating public space.

S.D.W. – Netherlands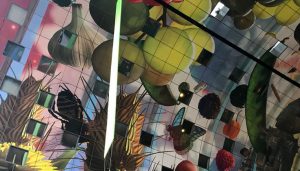 What was your favourite thing?
When I drew without seeing.

What was your least favourite?
The unpredictable weather, my camera was wet :'(

What did you learn?
That I can feel, see, hear, touch, smell and even taste art.

L.V. – Peru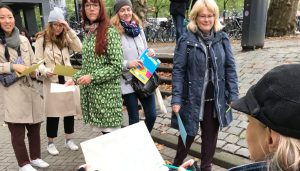 Contact
Contact me for more information about creating permanent and temporary walks in your town or city.
The Public Art Company, Studio 212, 37 Queen Street, Colchester, Essex, CO1 2PQ
www.thepublicartcompany.co.uk
info@thepublicartcompany.co.uk
+44 7950 836488
@thepublicartcompany
@thepublicartco