Paphos II
Creating & Installing a Concrete Sculpture.
I had decided on my first visit that it was a real shame to visit this place and not make something out of concrete. On my second visit I took on the challenge, and, as I had wanted to I got caught up in the romance of this totally unique place that transports you into a simpler way of communal living, working in the hot sweaty studios by day, wandering to the beach to cool off, and sitting discussing art late into the night by candle light, drinking cheap Cypriot wine, sharing the cooking and the food and setting the world to rights around the long marble table in the garden… I decided I would go back and do it, and that's what i did!
Lempa School of Art, Paphos, Cyprus
---
Shaun Caton, 'Rainschemes for Insomniacs.'
Performance Art Residency with artist Shaun Caton
As part of Spill Festival. 2016
Spill Festival, Ipswich Art School, Suffolk.

---
Light Installation in an Abandoned Prison in Uherské Hradiště.
Light Installation & Arts Workshops
As part of my MA I was offered the opportunity to work on a one week residency in Uherské Hradiště Prison. This trip was not for everyone, but with my keen interest in Urban Exploring and visiting new places knew it was for me! We set about to survey the prison, for one day, then create amongst a team of artists a one day exhibition in the prison. For the project I bought with me a sack of optic fibres, and had the plan to create a human form from light, I had no idea how moving and deeply saddening the place would be, alongside how cold, damp and dusty it would be the trip was full of surprises. We built a great relationship with the teachers and students of the Uherské Hradiště who supported us in our goal.
Uherské Hradiště School of Art, Czech Republic.
---
Silk River
School Workshops & Batik Scroll Design & Creation
Kinetika are a group of creatives formerly based in London, who moved to High House Artist's Studios in Thurrock, Essex in 2014. They specialise in participatory practice, education and design. The founder of the company, Ali Pretty, applied for Arts Council funding to travel to India to create a set of six metre tall hand-painted silk scrolls with community groups and artists, along the river Hooghly. The project was partnered with places along the river Thames from East London into Essex and she had a vision to invite two artists to work on each of the ten stops along each river, I was one of them. The project included assisting on workshops for school children of varying ages from the location, and enabled them to get involved with the creation and design of the scrolls, and try out some of the methods. Along with conceiving and working with a team of artists and volunteers to bring to fruition the 'Tilbury' scroll, in one week.
Kinetika, Thurrock, Essex
---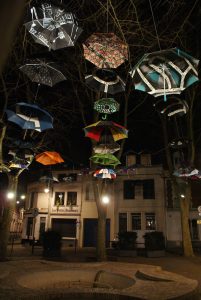 Parasol – Festival Arsenne
Street Installation  & 'Tea Party' Event
The hanging umbrella installation was created in conjunction with a team in France (fitting and hanging) and a group of volunteers from University of Suffolk. We undertook creating a series of umbrellas with the theme of maps, to reflect Ipswich's town twinning with Arras in Norther France. On site we attended networking events with residents groups, fitted the installation and invigilated it for one week, organised and put on a tea party for invited guests, school children and older people plus drop-in guests who were at the festival, providing English afternoon tea and biscuits.
Festival Arsenne, Arras, France.