Peter White Bardfield Artist
Private View May 31st at 6.00pm
Exhibitions ran May 31st – June 22nd 2019
The Minories Galleries, 74 High Street, Colchester, Essex, CO1 1UE
Curation of an exhibition of Peter's work in oil, watercolour, linocut and stained glass, from student days to the present. Inspired by his days working as a printing assistant to the artists of Great Bardield, Michael Rothenstein and Edward Bawden. Included are pieces by artists of Bardfield, including friends and family. We aim to bring them together in this collection and celebration of Peters life and work.
I set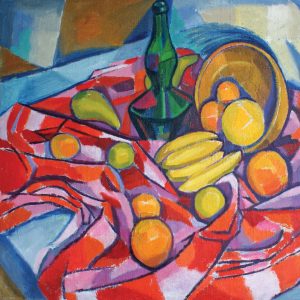 out to curate a posthumous exhibition of Peter's work, for his daughter Anne, who inherited his work in the house they had lived in at Great Bardfield for many years.
Peter had worked with and made life long friendships with some of the founding artists of the Bardfield set, and as a teacher at Colchester institute had a far-reac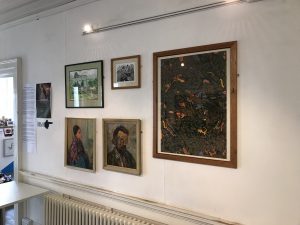 hing influence on artists and the arts community in Northern Essex.
The work was in storage at the start, and we photographed and documented it one snowy day in the foyer of the unit in Rayne, Essex. It became apparent the scale of the project, so we moved the collection into my studio where we could log, measure and photograph it in safety, and warmth!
I had approac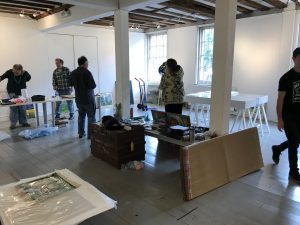 hed the Minories Gallery, Colchester, Essex, with a proposal, which went to the committee, who were well versed in the Bardfield artist's legacy locally, and agreed an exhibition with a year's lead time. As is always the case the year flew by and we were soon preparing the exhibition.
Anne's diligent documentation helped me to design a catalogue which would form a long-term documentation of the work for her to keep, as the work was up for sale.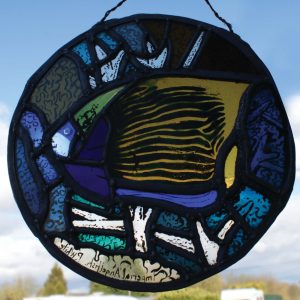 Peter had worked (as was the fashion of the era) in many media; oils, watercolour, print, stained glass and sketches. So I decided to partition the work by media type in the suitable areas of the gallery.
We framed a series of prints which had spent many years hidden away in planning chests, and I planned the layout of the space. We also collated guest contributions where we had no example of an important piece, and were offered a number of loans when friends and family heard about our endeavour.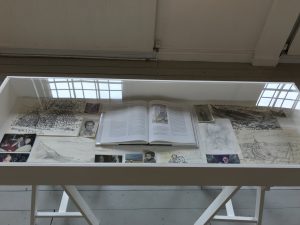 We also gathered together letters and notes from the original Bardfield artists to Peter, along with postcards, family photos and books in which he was mentioned. These were displayed in vitrines, and alongside them were two old heavy trunks which had been used by Anne's mother Blossom when she had re-located from Jamaica to the UK to marry Peter.
The Jamaican connection can be seen heavily woven throughout Peter's work so it was nice to have these artefacts alongside the artworks to tell the story. Blossom had sadly passed away some years before Peter, but her influence on his work made her presence in the exhibition strongly felt. Their portraits by Andy Anderson, along with work of friends and family featured as you entered, this coupled with Anne's introduction and memories from old friend Bruce Ronaldson in the catalogue, tell the complete story for those who had not known them.
Hang day came around all too soon, and whilst the space looks easily accessible as a visitor, when you arrive to hang, and layout the w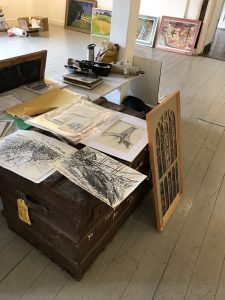 ork in the space, its size expands exponentially and I have to say I was a little daunted at the task that lay ahead – as curator I took charge and set up two desks for preparation of work (re-stringing/stringing, cleaning etc.) and formed a system for hanging.
We had two days, and a team of three to hang. We were subject to well-meaning visitors popping-in and out throughout, whilst it was an enjoyable social for some, it got to a point I had to evict all those not working. Luckily gallery manager Max came to lend a hand on the second day, when he could see we were still working feverishly to hang the over fifty works.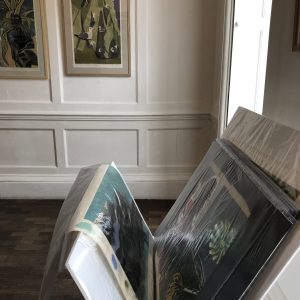 The private view was well received, and the exhibition held the record for the exhibition to make the most money under the current management (at that point) by the end of sales.
"Thank you for such a successful exhibition, many favourable comments and compliments and lots of sales."​

Max Fox
Creative Operations Manager Colchester Institute
Although the exhibition had been a huge undertaking, it was an overriding success, both financially and in the gratitude and attendance by people who had know Peter; his friends, former students, and those family in the UK and still able. Visitors were keen to purchase a catagloue as a momento of the event and his lifes work, which continued to sell well after the exhibition closed.
Work unsold in the show is still available and we are available to put on another show of Peter's work in the series, please contact me for more info: sara@thepublicartcompany.co.uk
You can view the show catalogue below, please contact me on the above e-mail for printed copies:
Show Catalogue

(c)Copyright TPAC all rights reserved, no copying or printing of the catalogue or its contents for commercial use is permitted.