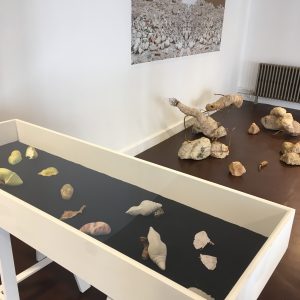 Vitrines Available for Exhibition Hire London, Essex, UK
This set of three hand made Vitrines (or table top plinths) with custom sized trestle legs and acetate lids, available to hire in South Eastern region: London, Essex, Suffolk, Norfolk either as a set, or individually.
Ideal for the presentation of flat work; art, sketch books, books or manuscripts that can be laid out flat and protected under acetate. For art exhibitions, design or architects presentations. The depth of these vitrines means they can also display objects under 12 cm tall.
The vitrines come with either:
Used acetate lids, in reasonable condition, included in price.
Fresh set of acetate lids (enquire for price from £45.00 approx, allow time for delivery.)
Fresh set of Glass lids (enquire for price, allow time for delivery.)
Dimensions of Vitrines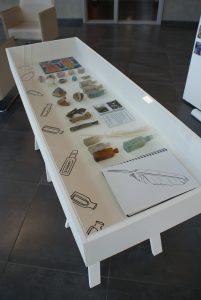 Tops: 54cm W x 154cm L x 15cm D approx.
Legs: 69cm H  x 43 W approx.
Prices
Hire Per Vitrine
From £150.00 each, per week, plus delivery, optional extras include fresh lids see above.
Discounts for longer bookings, please enquire for more info.
Delivery
Customer collect (using your own courier, should you wish) from Woolwich SE18 5TF, free.
Deliveries (collection and return) to London/Essex postcodes: from £100.00 each way per order price on application.
Rest of UK deliveries, price on application.
Collections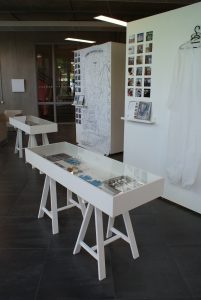 If you would like to collect your order either in person or by sending your own delivery van/courier, then we'll be very happy to accommodate you, please remember to bring blankets/packing material if using your own vehicle, all damages must be paid for.
Collection between: 11.00am – 1.00 to 2.00 -5.30pm, week days or weekends by appointment, please confirm a time in advance for self pick-up.
Terms & Conditions

Vitrines are supplied with a matte white finish.
Please return in the same condition you hired them in, if you experience excessive wear on the acetate lids you will be invoiced for replacement, if you are allowing people to touch the lids considering ordering your own set to avoid charges, we advise handling with gloves to avoid finger printing.
Used acetate lids have been used but will be cleaned so may contain some small scratches but overall will be grease and fingerprint free.
Vitrine use is at your own risk please ensure you are covered under your insurance.
Vitrines are not secure and therefore may not be sutalbe for high value items if not attended.
These items are not suitabe for standing/sitting on, or supporting excessive loads, please use common sence and if in doubt ask.