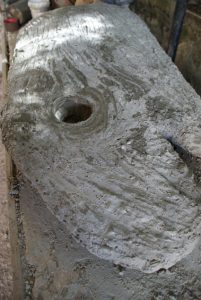 Introduction
Cyprus College of Art1 was set up in Pahos in 1969, by Stass Paraskos, who sadly passed away in 2014. I first visited the school with the University of Suffolk two years later in 2016 as part of my Masters Degree, I was working on my 'Concepts & Concepts' module and didn't have a direction to my work at the time and was investigating materials.
'The whole place is surrounded by an amazing sculpture wall, known locally as the Great Wall of Lempa. This was started in the 1980s by Stass with the sculptor Anthony Heywood, who made the large paid of hands scooping water at the College entrance, and Peter Fillingham, who made the King Kong gorilla in the sculpture courtyard. After that Stass and numerous other visiting artists added to the structure, creating one of the most atonishing works of public art in Cyprus.'
Cyprus College of Art1
When I arrived I was blown away by the place, it's a crazy melange of sculpture that has been created and added to since the sixties. Stass' work is mixed with work of artists and student in a wall that wraps around a collection of old buildings of a shed like construction, surrounded by court yards with clementine trees and mimosa, interspersed with piles of; wood, metal, glass, tiles, paper, bricks and workshops with rusty metal and tools left out as if the artist may return to work that afternoon.
'Of course we know the College is a simple, even primitive, place and so it is not going to be suitable for everyone, but for real artists it is a kind of paradise. Or as one visiting artist, Marcus Cope, put it: "The Cyprus College of Art is all about the art, the simple stuff that attracted most of us to this art thing in the first place. It's about developing studio practice without all that professional development crap."'
Cyprus College of Art1
I had decided on my last visit that it was a real shame to visit this place and not make something out of concrete, although at the time I didn't feel much encouragement, as you will learn there was a reason for this!  Anyway I had wanted to and got caught up in the romance of this totally unique place that transports you into a simpler way of communal living, working in the hot sweaty studios by day, wandering to the beach to cool off, and sitting discussing art late into the night by candle light, drinking cheap Cypriot wine, sharing the cooking and the food and setting the world to rights around the long marble table in the garden…
I decided this year I would go back and do it.
Concept
Before I set of to Cyprus I was creating a series of installations for my Jane's Walk; 'Place , Story, Artefact' I had it in the back of my mind I wanted to create something out of concrete in Cyprus, I had e-mailed Margaret (Stass' daughter and manager of the place) and asked her, as I would need help getting to the hardware store to pick it up, and she had agreed to help.
Not sure what I was going to make, I was on the mailing list for Whitechapel after recently attending a curation course there, and one day an invite to their latest exhibition 'Self-Portrait as a Billy Goat' arrived in  my inbox. I was fascinated by the piece by Paweł Althamer2, a goat in the pose of Rodin's 'Thinker,' part goat, part human, part bare boned structure.
I resolved there and then that I wanted to create a piece that reflected this balance of bare parts with solid sculture although I wasn't sure at this time how I was going to go about it.
I researched on-line how to make things out of concrete, this generally turns up some quite bad craft making solutions, I kept searching. After much wandering about the internet I finally found a video about creating concrete sculpture using the method I will describe next.
Packing
I went to the hardware store in the UK and purchased; brown packing tape, (a lot,) lining paper and charcoal. I set off to Cyprus not sure if this method would work, but with the resolve to give it my best shot.
Diary of Building a Concrete Sculpture
Arrival Night
Myself, Hannah (former BA) and Will her partner arrive very late on a Sunday night, and are greeted by Joseph an art teacher at a University in the Czech Republic, and Petr Ingerle the 'Drawings and Graphics of the Modern and Contemporary Art Curator' of the Moravská Galerie, I had by coincidence visited  the International Biennial of Graphic Design Brno on which he works on a recent artists residency in Brno.
Day 1 – Cleanliness is Next to Godliness
I had e-mailed Margaret to let her know I would be working in concrete as I would need a lift to the hardware store which she kindly agreed to, I also mentioned some ideas about organising a school workshop at the Art School just before I left, which I discussed with one of the residents, Steve an English artist from Korea when I arrived, however Margaret was not in residency on our arrival so this was going to be tricky…
I set about the traditional deep clean of the old stables, our accommodation area on the first day, to make it liveable in for the rest of the week.
Day 2 – Setting up Studio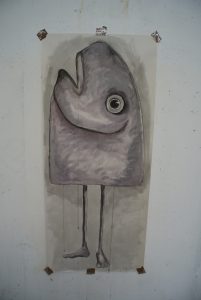 I am very tired, a busy few days creating installations before the trip have caught up with me. We let ourselves into the studio and I start work, I clear out my studio space (from last year) I rummage around the studios and find a sheet of wire and some cardboard, I collect a selection of scissors wire cutters so on from the tool cupboard and my studio space is taking shape.
Broke for lunch and went to get supplies including rubber lined gloves for working with concrete.
Returning in the afternoon I hang lining paper on the wall and start to sketch out the concept for the sculpture. I know I want to create a fish, I am a fish-owner and massive fan of them, I want a simple shape that will not be to difficult to work out in concrete for my first attempt.
Returning to the stables I cook food for the group, and was out light a light by 9.30. I awoke a couple of hours later, and wandered down to the quiet kitchen to make some tea.
Day 3 – Chiharu Shiota
Slept.
The last few days have caught up with me, a couple of large gins last night and I was out for the count and I had promised myself a couple of days rest on arrival, which then turned into cleaning the accommodation, tidying my studio space and gathering supplies.  I'd been suffering from a cold whilst doing Jane's Walks installations and my body now said 'enough is enough.'
I spent a leisurely morning reading a book on curation: 'Curationism – How Curating Took Over the Art World,' by David Blazer(2015)3 and I chatted to Peter the curator from the Czech Republic about what he was working on. I ruminated on how I get to interact with artists as a curator and a student,  and how when I was younger I wouldn't have had the confidence perhaps to speak to, or interview people that I have now, and that studying as a mature student is a good choice because of this.
We all head off to Paphos in the afternoon on the coastal road bus and split into groups. Steve and I head off to visit the ruin of an ancient church he has been painting, and then decide to wander towards the old town, en route we stop to ask an old man sunning himself on his doorstep for directions, he calls his wife who is fluent in English as she lives part-time in London, she says the old town is miles away but recommends we continue up the hill to see the old amphitheatre and caves.
We head up, there is a fine view of Paphos from the top of the hill, and we then head down towards the ancient looking caves in the hill side, we are discussing if they are natural or man made, and Steve comments 'you could make one of your installations in here!' as I turn the next corner to a set of stairs carved downwards in the rock, I suddenly see a shock of red through a portal between the rock formations…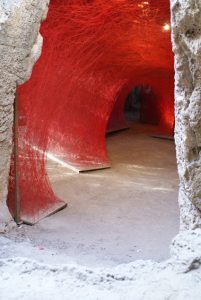 I know immediately what it is – a Chiharu Shiota4 installation, I have been a big fan since starting my degree, and had been researching her work last time I was here as part of my investigation into materials and installation.
We make our way down the staircase and I am absolutely thrilled, the large cave area was filled with woven red wool, entwined around an internal framework, built off the floor, with lighting behind it.
What a find! It turns out it is organised by the European Capital of Culture – Pafos2017 and the  EU-Japan Fest Committee, as part of the Terra Mediterranea: in Action, a series of art exhibitions and conferences in Paphos that April.  Interestingly, I find out Shiota studied in Germany with Marina Ambramovic, who's work I had been investigating as part of my 'walk as art' before I arrived in Paphos.
Day 4 – Start from the Ground Up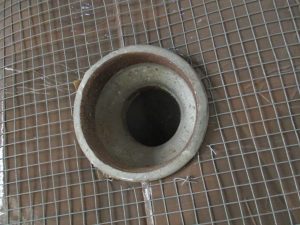 Its day four and the week is flying by. I am in the studios today to start the manufacture of the fish-man.
I lay out the materials, look at them, and think hard. After some ruminating I start making, cutting the body out of card, which I cover with packing tape to waterproof it. I then overlay the wire mesh and cut it to shape, this is a very slow process, tough on the hands and physically demanding in the heat of the studio.
Once this is finished I hunt for metal to make the legs out of amongst the workshop area, I lay them out to see how they might work.
I then cut two giant foot shapes out of card, to make moulds for the feet, tape a rim around them with packing tape and line them with plastic. I make them different shapes and sizes as I want it to look rough, ready and unusual.
I place the foot moulds by the work bench outside, I vice the legs to the bench, with the ends of them sitting inside the moulds. I pick some rocks and bricks from around the site to weigh them down with. I find some concrete powder, mix it and start to fill them, adding small rocks for toenails. Overall I am pleased with the end result, and start to try and smooth them, the first one seems crumbly, and I assume this is because it's not set yet.
Margaret arrives back at the studio, and she tells me the concrete mix won't go off without sand and that's why it's crumbly!
Day 5 – Wet Trades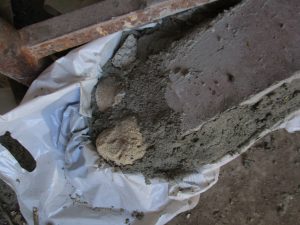 Work begins in earnest. I finish sewing with wire around the edges of the mesh on the body of the sculpture. The work is tiring and requires concentration.  I go with Margaret to the hardware store to collect cement.  She's been away curating a show of her fathers work for the Terra Mediterranea: in Action, and she tells me that some of her own work was exhibited.
Upon our return I have to knuckle down and finish the wire sewing, so I can start concreting, time is running out!  I clear an area in the outdoor workshop, with a clear workspace I collect together all the materials needed to start.
Mixing the concrete by hand in batches, it comes as gravel with a separate bag of powdered cement, you mix with water, and is way more chunky than I expected. I mix it in the outdoor sink next to the work bench, the overflow of which just falls out of the bottom of the sink, which creates an interesting workspace as one of the guys is making a water installation!
Layering the mix on the reclining fish body, I spread it as thinly as I am able, and watching it fall through the mesh in places. I have to stitch the card to the mesh around the base to keep them close together whilst I sandwich the material onto it. When I reach the end of the side I spread a thin layer of the smooth material I used before over it, I am applying water to it as I go to try and prevent it cracking from drying to quickly in the Cyprus heat.
After a hard day working I am covered from head to toe in dirt and concrete powder, I grab a swimming costume from the stables and rush down to the beach, meeting Steve on the way down there, he joins me. The sun was lowering in the sky; I hastily changed and ran into the refreshingly warm fizzing surf, we swam and floated around in the effervescent bubbles. Leaving the water refreshed we sit by the cliff wall, on the warm rock and watched as the pink sun dips below the sky line. This is the magic of Lempa.
Day 6 – Chunks Falling Off
Arrive early to the studio to finish the piece, as I gingerly try to turn it over a large chunk falls of the corner!
No time to worry about it now, I start coating the other side until I run out of material, I need to get another bag, I sit sketching and chatting in the courtyard and help Hanna thread bouncy balls for her installation while I  wait for Margaret.  She arrives at 12.00, and we head to the DIY store, I use the time to discuss with her the school and her thoughts on education which I will ruminate more later in this book.
Once back at the studio I set to work feverishly to get the piece finished, it's our last day and we have planned to head into Paphos tonight as a group.
I am wondering about the sticking power/solidity of the product they have given us at the DIY store, Margaret orders in Greek, I have no idea what they discussed. I coat side two rapidly, applying a lot of water as I go, tried to fix the missing corner, but with it upside down there was no hope I would get anything to stick to it!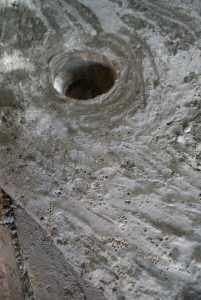 I had debated adding some glass 'scales' to the piece, I had a bucket of found glass shards, old glass with a patina and oil slick colouring, however as time is running out and the surface of the piece is so lumpy I decid to scrap this idea. I raun a coat of the thin powered stuff over it, pouring on water and running my fingers over it like a lovers body, the tracks of my fingers are clearly visible in the surface, and I am happy with the final result.
With Wills help I put the feet into an old shopping trolley that has been welded into a chair, and roll them around to a spot in the wall Margaret said I could install it, I pour a foot sized pile of mix onto the concrete and set the feet onto them, adding a thin coat to the tops of the feet to protect them as they were of a sub-standard mix, the sun was beating down relentlessly as we toiled to get them in place.
After a much need nap we all head into Paphos for a last night celebration, along with the Irish couple that have joined us, we make our way to the caves to show the group the Chiharu Shiota4, at night it's a glowing red cave you can see clearly from the bus on the way into town, and a real spectacle up close!
Day 7
Leaving day.
We are all somewhat jaded from the night out. Having packed the night before, packing slightly drunk in the cool of the evening is infinitely more pleasurable than packing with a hangover! I head to the studios as soon as I awake to see if I can install the sculpture.
It's still wet.
I know having turned it the day before that if we try to lift it it will crack and break. I lift it slightly to see how heavy it is, it weights a tonne!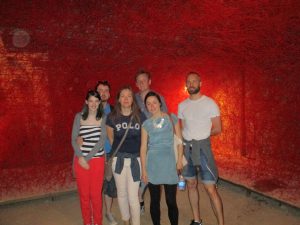 Whilst out in Paphos the night before I have had a chat with the guys that are staying after we leave, and they have kindly agreed to install it for me if its not dry. I am at their mercy.
I give them instructions;
Leave it for a week to dry.
Check it is set really hard.
Cap the metal poles so they don't work there way through over time.
Stuff it more while moving it.
Roll it round on the trolley chair.
Remove stuffing before fitting it.
Place two ladders either side, climb up with it, then lower down.
Have someone there to guide it onto the poles.
I told them I wouldn't hold it against them if it fell apart during the installation process, and asked them to photograph it for me in situ.  This all sounds very organised, but if you have been to Lempa you know that things don't always get done, due perhaps to the cheapness of the Cyprus wine, the oppressive heat and the fact that time flies when you are having fun, and the best laid plans and all…
As I left Margaret asked me if it would stand independently, and I replied: 'I hope so, I have no way of knowing!'
One week later…
I haven't heard from them.
I wonder if no news is good news.
A couple of days later I awake to find some pictures messaged to me on Instagram, they have fitted it, its standing, it hasn't fallen over or fallen apart during fitting. I am beaming from ear to ear, I feel like a new parent.
My sculpture is part of the wall in Lempa.
I achieved what I had set out to do, which was create a concrete sculpture in one week in Cyprus, and with a little help from my friends it had been realised.
Conclusions
Working with concrete turned out to be a steep learning curve for me, and an excellent lesson in letting go of outcome, the material totally dictates what you arrive at.
When working with hard, sharp, heavy, dirty and dusty materials it requires a change in mindset to allow these materials to bend and mould in the way they chose, you cannot dictate the absolute outcome when using them as they are strong but brittle, too much stress on a point and it breaks. You re-align your expectations on the piece in-line with these behaviours.
The heaviness and physicality of working with the materials comes as a surprise to me as well. I feel I am in touch with the spirit of Stass during the process. I am exhausted after a couple of hours working with the wire cutters snipping the shape in a 31° studio I was determined to get the piece finished and this pushed me forward, the outcome being I spent much of the week tired and grumpy and only made it to the beach once.
A lot of the time was spent ruminating on my next step, standing, stepping back and looking at the wall, considering the construction of the work already there; the texture, the form, how elements such as metal were integrated, the simplicity of form driven by the material I was using.
One thing that surprised me was the feeling of the place, somehow Lempa with its sixties summer of love vibe draws you into its warm embrace, I realised that the feelings of intensity and affection are drawn from you here like a hot poultice, becoming totally absorbed in your work and communicating that with the people around you, it is a truly unique place in that regard.
I read some of the work of Stass' son Michael Paraskos5 (a novelist, art writer and lecturer) while here, and realise what a creative melting pot the school had been in its day, with two branches firstly in Famagusta then in Paphos when the Turkish invaded Cyprus in 1974.
Chatting to Margaret I discovered she had attended the Slade Art School in London only a year apart from my tutor at University of Suffolk, David Baldry who had bought us all to the School the year before.  I was interested in her take on the Art School and her thoughts on art education in general. She told me that she was not a great fan of the current art education system, or how art is taught, that people 'create work to pass' rather than work with passion to fulfil the educational criteria.  I asked her if she though tutors were biased towards their own artistic speciality and she though they were as much now as when she was at art school.
I was interested to hear how she runs the school now, with a selection of Universities that visit the school each year and some independent bookings, and we talked about her plans for the future of the Art School running more workshops than full time educational courses. We discussed the new alternative non-MA run in the UK, I was thinking about the fact that Lempa used to be run with a more structured educational practice, along with a publishing arm (the Lempa Press) and that it is greatly changed from those days.
Although I didn't get around to running a children's work shop while I was there, (Margaret did say I have to let her know a lot further in advance to plan it, if I want to do it in the future,) I did realise that the real sense community lies in the bonds formed with the people who you stay with while at Lempa, the variety of people you meet and the common bond of love for the place and art that draws people back sometimes many years later only stands to magnify this.
The legacy of my residency: a five foot tall concrete sculpture standing amongst the art work standing here since the seventies.
The most important thing I learned? Creating a concrete sculpture of life size in one week in 31°  heat is madness, and that should one want to go to occasionally the beach and relax and enjoy your stay, two or three weeks should be the minimum to attempt it in!
That given a place where people are free to relax and create art without a strict educational structure an amazing things can evolve that are bigger than the man that created it, Lempa  gives you a feeling you can only experience if you go there…
'Not everyone is going to like that or want a place like this, which is fine.  But for those of you who need to be a real artist, this place is unique and truly special.'
Cyprus College of Art1
References
1 Cyprus College of Art
http://artcyprus.wixsite.com/cypruscollegeofart
2 Paweł Althamer – Sculptor and performance artist working in video, installation and action art.  In his art Polish artist Pawel Althamer combines the visual experience with suggestive socially-minded messages. His artistic practice is based on a participative approach to art, founded on the belief that art can impart change.
http://culture.pl/en/artist/pawel-althamer
3 'Curationism – How Curating Took Over the Art World,' David Blazer (2015) Pluto Press
4 Chiharu Shiota 'A Walk through the Line'(2017) Fabrica Hill cave, Kato, Paphos
http://www.pafos2017.eu/en/event/terra-mediterranea-action/
5 Dr Michael Paraskos – Novelist, lecturer and writer on art.
'Steve Whitehead: Realist Painter' Michael Paraskos (2008) Lempa Press
Credits
David Baldry – For introducing me to the Cyprus College of Art
Stass Paraskos – Creator of the School for Artistic Inspiration
Margaret Paraskos – Manager of the School for help collecting concrete
MA's & BA's – from the 2016 trip for all the ghosts and the happy memories!
Hannah Cook, Will Patrick, Joseph, Petr, Steve Westbury, Kullum & * *** all the people that made our trip special, and helped me during and after with installation of the piece.
Thanks to all of you!